INDIVIDUAL COACHING
To offer flexible, engaging and comprehensive coaching, I work with monthly packages which include

coaching sessions, either face-to-face or by telephone or Skype
email support between sessions to answer questions or give feedback
personalized content in the form of a tool, a session summary, a bibliography or a video to nourish your thinking
the audio recording of the sessions (on demand) to review the sessions and keep track of the progress.
You therefore benefit from a completely flexible support from your coach within a clear frame.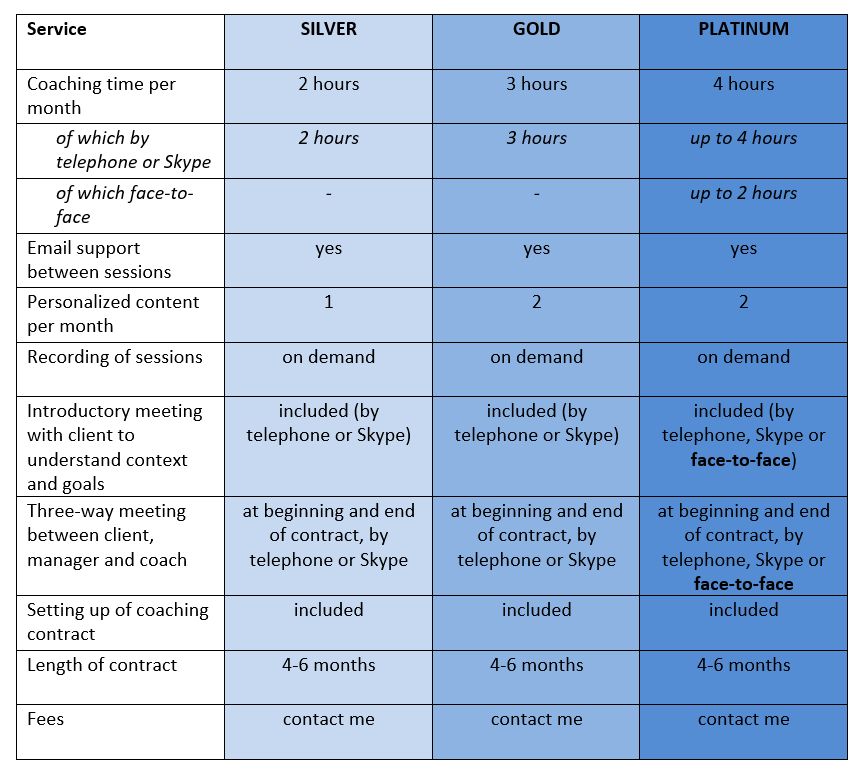 Length of a session: telephone/Skype sessions last 1 hour and face-to-face sessions 2 hours. These conditions can be adapted at the beginning of the coaching depending on your situation.
Location: for the Platinum package, I have several locations you can choose from in Paris. Alternatively, the sessions can also be held at your office.
Languages: French, English, German, Russian, Spanish
Choosing a package: I will be happy to choose with you the package and the duration which best fits your situation.
If would like a personalized offer outside the packages, let me know.
TEAM COACHING
Each team coaching is completely personalized. Please contact me to jointly explore possible solutions.